TECHNOLOGY & INNOVATION
World's largest inflatable SUP Producer
First inflatable Surfski AIRROW 17′
HYBRID kayaks are combinding the stability of SUP boards and the advantages of traditional kayaks.
Airrow 17′ is a hybrid kayak, half surfboard, half kayak, with same measurements as a 17' Surfski. This innovative design is very fast and, thanks to a smart rudder system, is easy to steer.
The Airrow is 100% inflatable meaning that you can easily get it on the water right out of your car trunk. Live in a city? No storage? No problem! The storage-friendly Airrow can be ready to use in minutes. Wherever you go, Airrow is with you. Airrow is lightweight, easy to carry, and can be stowed in your car in just a few minutes.
The AIRROW has 2 side chambers. Normally they do not touch the water, to minimize drag. But in case of skew they act as stabilizers.
A comfortable seat and an easy-to-adjust Footrest make for relaxed paddling on the AIRROW "sit-on-top" surfski. This is the new way to enjoy nature up close.
An injection-molded bow with a lightweight alu tube gives the AIRROW not only a sleek appearance but an advantage for getting best hydrodynamics for speed.
SLIDER
350 / 410 / 385 
The fast, light,
one-of-a-kind patented,
entirely dropstitch kayaks
made of indestructible Selytech©
The Slider is the first inflatable kayak to be constructed entirely of SELYTECH® drop stitch fabric, giving it distinct advantages over traditional inflatable kayaks. The drop stitch sides create a narrower profile that paddles easier and faster, and also provides more inside space for gear. The open configuration allows full access to all spaces and makes it easier to get back on board after a spill.
V-shaped drop stitch inflatable sides cre-ate side chines to make this kayak track straighter and go faster with less effort. They also provide secondary stability. The Slider features a unique molded V-shaped form underneath both bow and stern, giving several important benefits: A sharp entry and clean exit, for better tracking and more efficient paddling.
• Tough, durable, compact, and lightweight, with great maneuverability and excellent stability.
• Surpass the speed of a hard-shell kayak yet enjoy easy portability.
• Side chambers and bottom floor made of Advanced SELYTECH© DS (drop stitch) fabric for superior strength, high-pressure inflation, durability, and abrasion resistance.
• Molded V-shaped form under bow and stern made of rigid, durable material, for better tracking, easier paddling, and greater speed.
• Adjustable seats provide excellent back support and comfort.
• Multiple D-rings on the SLIDER allow seat adjustments for one or two persons.
• Deluxe replaceable H3 high-pressure valves are reliable and airtight.
• Detachable large skeg keeps kayak on a straight track while paddling.
• Large screw-type drain valves allow for fast, easy draining of the kayak and are easy to open and close.
• Unique ultralight, universal design for all ages.
This multifunction Kayak from the world's largest producer of inflatables for water sports is a standout because of its unique versatility: use it for rowing, paddling and fishing. Woosung/Korea produces over 60,000 inflatable SUP boards per year. Using a technology perfected through decades of fine-tuning, Woosung is now expanding its extensive kayak line with a new fishing kayak made of its extremely durable drop stitch fabric. Drop stitch fabric, with thousands of fine polyester filaments between the deck and the bottom surface of the water-sport inflatable, provides incomparable rigidity. Unlike conventional inflatable kayaks, the WINGFISH is not only rigid but also very light. Minutes after taking the WINGFISH from the trunk of your car you will be rowing, paddling and fishing. The special new feature of the WINGFISH is the 2 side wings that when folded out create a stable platform to stand on and fish from. Further ensuring a solid footing while standing and fishing is a height-adjustable aluminum safety bar to hold on to or lean on. For rowing or paddling just fold up the side wings. On the WINGFISH you can glide in water just 6 inches (15 cm) deep! After fishing just stow the kayak away in the trunk of your car. Equipped with fishing rod holders and rubber netting to secure all of your gear, the WINGFISH is a welcome alternative to difficult-to-transport rowboats.
SCSL™
Selytech Composite Super Lite
SCSL™ – Selytech Composite Super Light™
● Newly developed double layer drop stitch
● Reinforced by pre-laminated double layer coating
● Stronger and stiffer, and up to 35% lighter
● The best weight down construction (less by 35% compared to the SDL)
● Improved anti-air loss technology
● Highly stable and durable for airtight, stiffness, torsion in hard and tough condition
● Fire Retardant Antimicrobial, Oil Proof, Anti Stain, Acid and Alkali Resistance
● Durable with UV-Protective, Anti-Oxidation and Temperature Resistance
● Any color available (top & bottom)
US Box System

interchangeable
The hydrodynamics aspects will play quite a roll in the future. More and more surfers pay attention to low water-resistance of the board and accessories on the board. The new fin system will be the basic construction for many years. It could become as important in SUP as the US box has been in the windsurfing and surfing world. Zebec is using a very practical fin- and box system. The Zebec box is thin and small and the fin slides easily in. With many thousand produced fins and boxes, this system has proven that it works well. The new idea for the interchangeable fin box system starts with the present Zebec finbox.In the meantime, a lot of brands have chosen the US fin box system. The US box has the disadvantage, that the box has to be very high. The equiped boards are difficult to roll because of the voluminous box. The new invention for Woosung is using the present Zebec fin box system together with a US box. The US box , if needed, can be slide in, into the same finbox which holds the fin.
The US box slides into the new flat fin box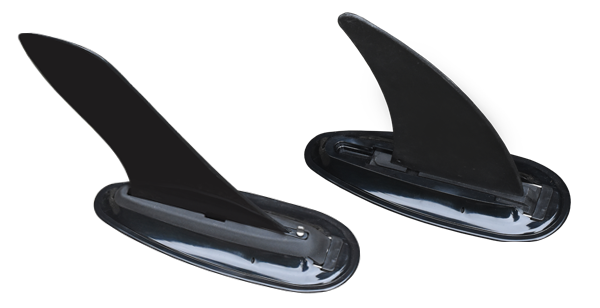 For standard slide-in fins aswell for US Box system
The new SUP Rescue System

The new
SUP Rescue System
is easy to fix
on SUP Boards
All SUP boards should have a second chamber, for safety. Now, we have boosted the functionality of an second chamber. The multifunctional SRS is a transparent tube that functions not only as a second chamber but also as a life vest in an emergency – and even as a pillow! The tube can be attached to the SUP board with a few clicks. Virtually all SUP boards have 4 D-rings in the bow. The tube is hooked to these 4 D-rings.
The tube bends easily and adapts to the D-rings. The tube can be straight or can be bent to follow the shape of the board.